President's Message
VIVA Life Science
Limitless Possibilities in a New Era of Opportunity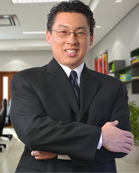 The world as we know it has definitely changed since the year VIVA Life Science was established and began a health revolution that launched the nutraceutical industry. VIVA set a remarkable standard for supplements with unprecedented nutritional science, resulting in more patents and published research than any other network marketing company in the 20th century.
The driving force behind VIVA's sustained strength in the marketplace has always been our deeply committed corporate culture and dedicated focus on the mission to help our members realize their dreams.
Today we are building on these values exponentially. We are moving intelligently and strategically on the path of extraordinary innovation in research and development for even greater health benefits with new products. We are creatively designing breakthrough business opportunities to help energize and motivate our entrepreneurial members into action toward their wealth-building goals. By fully engaging with people at every level of life – through connecting on a personal level, building and strengthening present and future relationships, and sharing the benefits of VIVA products plus the advantages of the VIVA business opportunity – we know we will all experience genuine growth in so many exciting ways.
You can confidently embrace change with a revitalized enthusiasm because we now hold the keys to a whole new revolution. Our goal is constant, never-ending innovation and improvement that will distinguish VIVA Life Science and expand its touch on people around the world. Join me on this great adventure into the successful future of your wellness and financial freedom in the 21st Century.
Emmanuel Fan
President & COO
VIVA Life Science, Inc.